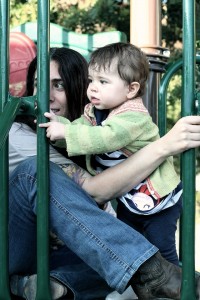 By the time I was in my early teens, I was comfortable "coming out of the refrigerator" as a vegan, after a lifetime of struggles around eating animal products. With limited vegan food options available, I began working at a local health food co-op in my hometown of Pittsburgh, PA while studying journalism at the University of Pittsburgh. Then, trading in my academic pursuits of a career in journalism for fixed gears, bad knees and too many crash-induced bumps, bruises and scars to count, I took a job as a bicycle messenger, riding more than 30 miles a day for nearly five years. The symbiotic relationship between the intense physical activity of biking and what foods I put into my body became extremely evident as my ability to ride excelled when eating healthy foods. Driven by this awareness, I immersed myself into the vastly expanding  natural foods industry, which exposed me to a world of new nutritious tastes, alternative healing modalities, cultural  practices and traditions.
After several years, I traded the bike for a career in building the organic food industry and went on to  spend well over a decade as a broker and sales and marketing manager with some of the biggest organic and natural household name brands including: Clif Bar, Yogi Tea, Peace Cereal, Guayaki, Boca Burgers, Tofurky, Traditional Medicinals, Earth Friendly, Organic Valley, Sunfood and Sambazon.
Currently, I'm happily bridging my love for food and writing as the senior editor and columnist for sister sites Organic Authority and EcoSalon as well as the site director for Eat Drink Better. While I don't spend much time biking through cities these days, but more often pushing my daughter Imogene in a stroller, my focus is still on our food system and the many wheels involved. I've also been a featured contributor in the anthologies "2012: Perspectives on the Next Age" and "What Do You Believe?"
My passion also extends towards music–which I view as a nutritive lexicon vital to our global evolution and personal growth. My album reviews and photographs of  musicians have been featured on MTV Iggy, The Village Voice, and Global Rhythm and I contribute my top album picks to the Village Voice's annual Pazz and Jop poll.
Bridging my experience in sales and marketing in the natural food world with today's online marketing mediums, I also works as a marketing consultant focused on supporting small-scale companies with triple bottom line missions.
Stay in touch with me on Twitter @jillettinger