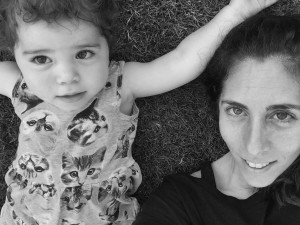 By the time she was in her early teens, Jill was finally comfortable enough to "come out of the refrigerator" as vegan. After a lifetime of struggles around eating animal products, and with limited vegan food options, she began working at a local health food co-op during college in order to feed and educate herself about the healthiest vegan options available.
Trading in academic pursuits of a career in journalism, Jill immersed herself into the vastly expanding  natural foods industry, which exposed her to a world of new nutritious tastes, alternative healing modalities, cultural  practices, and traditions.
Jill spent more than a decade as a sales and marketing manager at a leading natural foods brokerage team working with some of the biggest organic and natural household name brands including: Clif Bar, Yogi Tea, Peace Cereal, Guayaki, Boca Burgers, Tofurky, Traditional Medicinals, Earth Friendly, Organic Valley, Sunfood, and Sambazon.
These days, Jill is happily bridging her love for food with her lifelong passion for writing as a freelance journalist primarily focused on the food industry. Her writing regularly appears on Organic Authority, EcoSalon, Naturally Savvy, Eat Drink Better, E-ecosphere, and more.
Jill has been reviewing and writing about music almost as long as she has been writing about food (longer if you count her middle school newspaper stories about Duran Duran). Her album reviews and photographs of musicians have been featured on MTV Iggy, The Village Voice, and Global Rhythm, and her top album picks appear in the Village Voice's annual Pazz and Jop poll.
Bridging her experience in sales and marketing in the natural food world with today's online marketing mediums, Jill also work as a marketing consultant supporting the growth of small-scale companies with triple bottom line missions.
She live in Los Angeles with her partner and their daughter, Imogene.
Stay in touch with Jill on Twitter @jillettinger  and Instagram @jill_ettinger

Jill for Hire – Writing, etc
Focus: food industry and policy, organic and natural food, animal welfare issues.
EXPERIENCE
>Senior editor and a contributing columnist for sister sites Organic Authority and EcoSalon.
>Site director for Eat Drink Better, an Important Media site.
>Managing editor and contributing writer, Naturally Savvy.
>Featured writings and photographs on: The Huffington Post, Reality Sandwich, MTV Iggy, The Village Voice and Global Rhythm.
>Published in the anthologies "Toward 2012: Perspectives on the Next Age" (2009 Tarcher/Penguin) and "What Do You Believe?" (2009 Outside the Box).
PROFESSIONAL COPYWRITING AND DIGITAL MARKETING
Jill is available for:
>Creating unique web content, blogs, e-newsletters, press releases, product packaging, advertising, promotional materials, white papers, manuals, marketing plans.
> Specialty Tools: branding and identity, conceptualization inquiries, interviews and brainstorming, evaluative research, generative research, marketing strategies for print, media, Web and beyond.
> Specialty Knowledge: natural and organic foods industry, vegan and vegetarian diets, GMOs, agriculture, food regulations, climate issues.
> Extensive experience with social media client management and analytics, online publication applications including WordPress, Joomla, Agility, mail clients.